Trainer editor
⚠
This page comes from the old Wiki. It's probably not up to date.
Trainer editor in Ruby Host
The Trainers button from the Home UI allows you to edit the trainer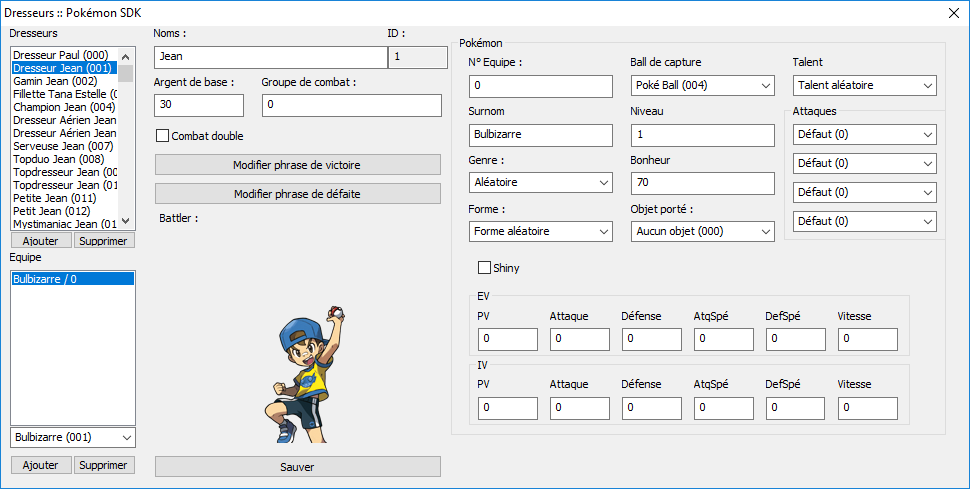 Create a new trainer
To create a new trainer click on add under the Trainer list. You can define :
The trainer name
In the Name or names field you can input the name or the list of trainer name (if it's 2v2 battle).
The given money
In the Base money field you can edit the factor multiplied to the last's Pokémon level.
Trainer speech
Cick on Edit victory/defeat speech. It shows the text editor (with the right text id), you can edit the speech there.
Double battle mode
Check the Double battle checkbox.
⚠
You should give two names with this option!
Its battler
Double click on the battler image (under Battler:)
ℹ
The battler should come from the Graphics/Battlers folder of the project!
ℹ
If you can't put another battler, re-open the project with Ruby Host, the path is probably corrupted.
Its special group
This option will be deprecated in Alpha 25.
Its Pokémon
You can add/remove various Pokémon from the Party list. Click on a Pokémon to edit its properties (EV, IV etc...)
Special case
The Trainer team n°: allows you to tell which trainer own the Pokémon in 2v2 (0 = first, 1 = second)
The form correspond to the form of the Pokemon, for example 1 = Unkown B if you're editing the Unkown's properties.
Once done, click on Save and go back to RMXP in order to edit the Trainer event.