Zone editor
⚠
This page comes from the old Wiki. It's probably not up to date.
Zone UI
By clicking on the Zones button from the Home UI you can access to the editor
It allows to :
Create a zone and set the panel to show when entering the map.
Allow or Forbid fly/teleport/dig.
Set the player position on worldmap when he opens the Map.
Set the warp location.
Set the default weather.
Create a new Zone
Click on +
Enter the MAP ID or the list of MAP ID that are in the zone in Map ID field.
Enter then panel id to show in panel id shown field (0 = no panel).
Check the right teleportation flags.
Enter the teleportation position (when player fly to the map) X : and Y : in fly data. (Leave blank to forbid flying to this zone).
Enter the Player's coordinate on the worldmap.
Click on Save.
To change the zone name, go to the text editor in file 10 :

Make a wild groupd for this zone
Go back to the Home UI and click on Wild groups. This will open the Wild Group editor :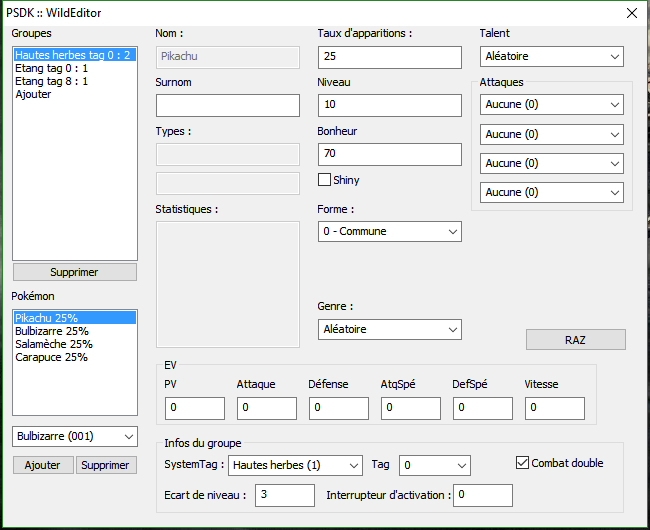 To create a new group select the right zone and :
Click New group in Groups.
Set the Group Info


ℹ

The level noise correspond to the span of level around the regular level of the Pokémon. Example: if the Pokemon is level 5 and the group level noise is 3, you can encounter level 4, 5 and 6 of this Pokémon.

Choose the Pokémon you want to add (under Pokémon) and click on Add.
Select a Pokémon in the list of Pokémon.
Set its information (form etc...).
Save